Bologna - Ducati Factory and info
Here's some info for those of you wanting to see where your Ducati was born, it's well worth the trip, Bologna is a great city for a weekend, great food, shopping, and history.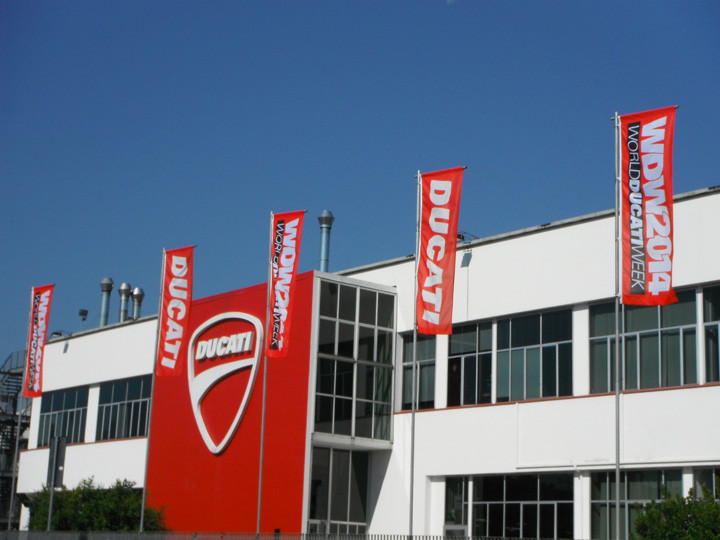 Museum & factory tour - Obvoiusly the pandemic is affecting access to the Museum & Factory, so please check with Ducati as to the present situation.
Firstly, you need to book your tour, it's not necessary to book for the museum only but it is for the tour & museum.
You can't just turn up on the day. (This does not apply during WDW and some special weekends like Mugelo MotoGP etc)
Remember that Italy is on holiday for what seems like most of August, so check that they are open when you want to visit.
This is where you book:
If you arrive on a Ducati pull up to the gatehouse and they will let you park in the bike outside the entrance, if you arrive on any other bike you'll need to park in the road.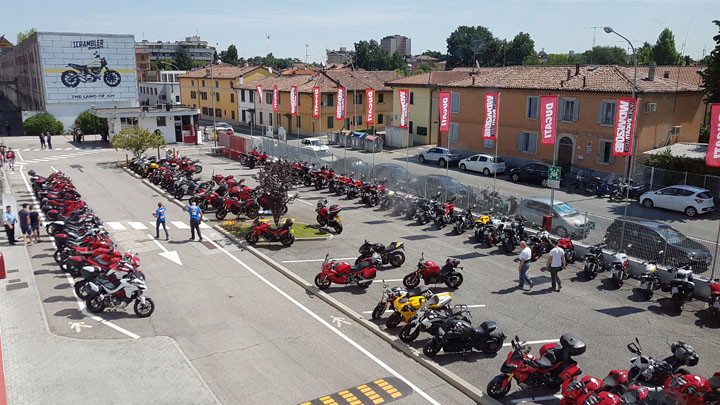 Our members who are registered as DOC GB members on the Factory DOC you will get in for free, Don't forget to take your red Factory DOC card with you, and your DOC GB card.
**October 2019 update**
The red DOC membership cards can now be downloded as a pdf from 'My membership' simply log in and download, they can be printed off or kept on a smartphone to be shown as required.
2021 cards will be available to download as soon as we know what they look like.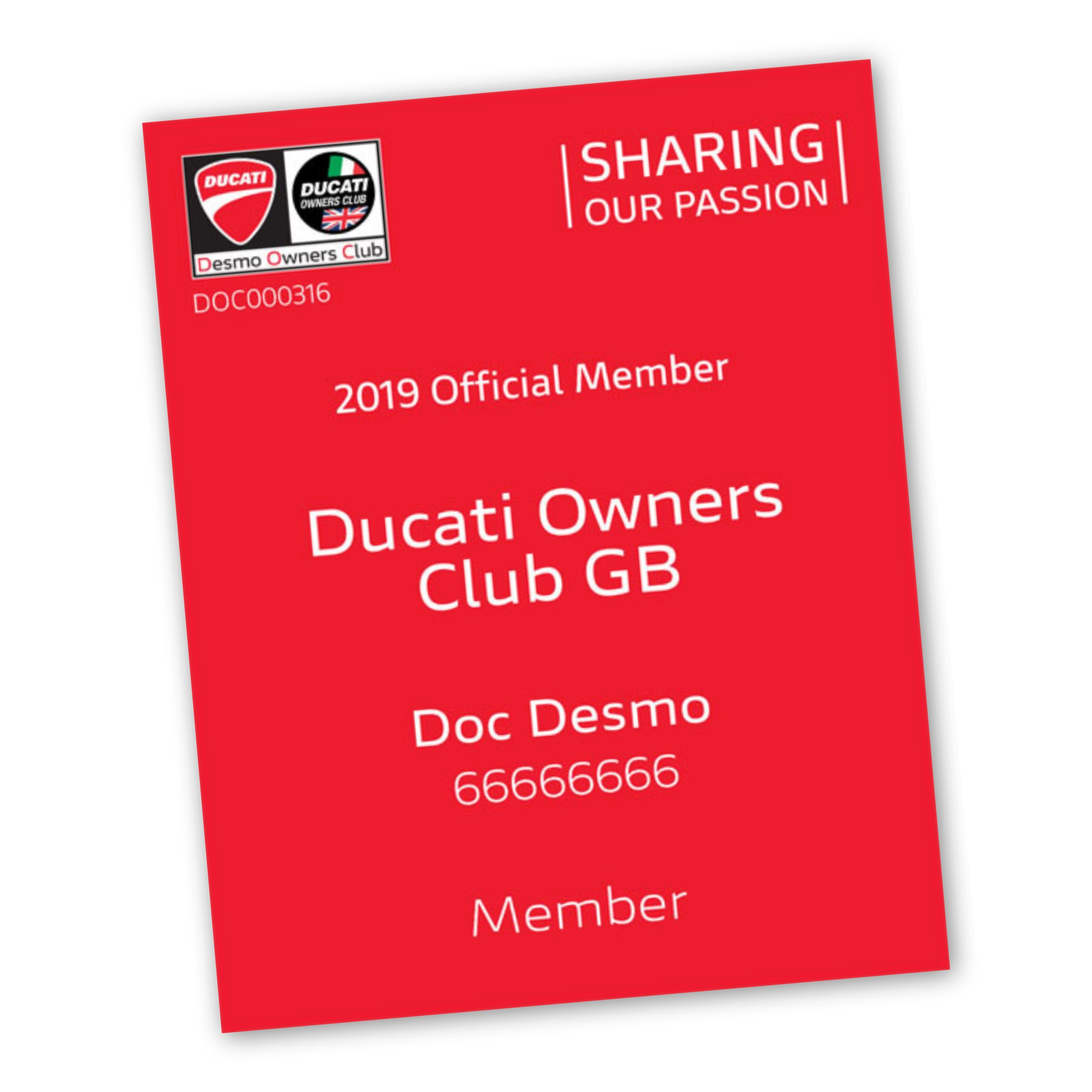 You will get a discount (10-15%ish) in the 3 factory shops by showing your DOC GB card and your red Factory DOC card.
These are the 3 shop locations:
Factory & museum Factory & museum - Google maps
Main shop Main shop - Google maps
Scrambler Factory Camp - shop Scrambler shop - Google maps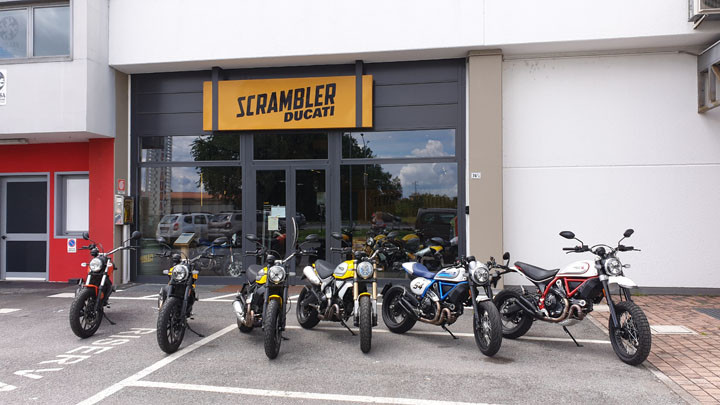 No discount here, but nice food next to the Scrambler shop…. America Graffiti Diner Restaurant Borgo Panigale
America Graffiti Diner - Google maps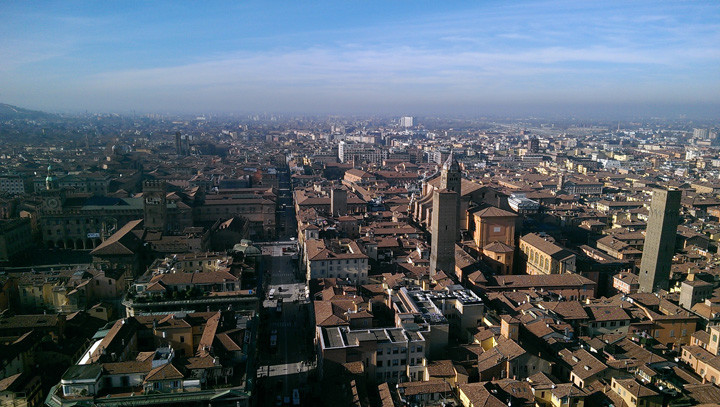 Hotels near the Factory & Airport
Borgo Panigale
Hotel del Borgo - This is where we usually stay, it's fairly cheap, nice place with nice staff and they know us very well.
5 min walk to the factory and some nice local restaurants +39 051 406878
Hotel del Borgo - Google maps
Hotel Amadeus – Bit more upmarket, nice place, the bar is open when most of the rest in the area are shut  Hotel Amedeus +39 051 403040
Hotel Amadeus - Google maps
Restaurants near the Factory & Hotel del Borgo
La Stella Pizzaria – My favorite, great food and a nice atmosphere
La Stella Pizzaria - Google maps
Il Desiderio – Does special seafood and Pizza, next door to the Hotel del Borgo
Il Desiderio - Google maps
Randagio – about 10mins walk, pretty good
Randagio - Google maps
Transport
We usually just use the Taxi from the airport and the bus to get in and out of Bologna, its cheap and very good service.
Trains can take you to Florence, & Modena.
Bologna transport info here https://www.tper.it/
The number 13 Bus goes from Normandia Just up the road from the del Borgo right in to the city, catch it here to get to and from the factory
Ducati bus stops!
Ducati bus stop to the city - Google maps
Ducati bus stop to Normandia - Google maps
In the city get off at Via Ugo Bassi which is the main street, then catch the No.13 here to go out of the city toward Ducati and Normandia at Lame NOT in Via Ugo Bassi
Bus stop Lame - Google maps
It's €1.50 (2019) for a 75-minute trip within the inner zone, buy tickets in tobacconists (yes really) or you can use coins on the bus. 
Remember to validate your ticket when you get on the bus at the machine.
Our favorite bar near the factory our flag is up on the wall!
Hostaria Dei 4 Gatti (The Four Cats)
Go in for a drink or food and say hello.
Hostaria Dei 4 Gatti (The Four Cats) - Google maps
Things to do in Bologna - Where to start...
Visit Bologna website here https://www.bolognawelcome.com/en/ 
Asinelli Tower the real two leaning towers!
http://www.duetorribologna.com/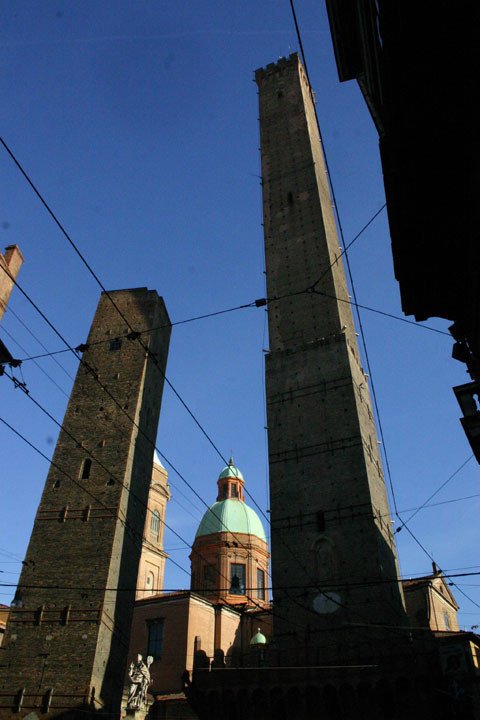 You can climb the 498 wooden stairs to the top for a fantastic view of the city.
As Bologna is getting more tourist than ever (400% more in the last 3 years) you need to book tickets, which can be done online or at the tourist information office in the main square Piazza Maggiore
Asinelli Tower - Google Maps
Palazzo Poggi Museum
Anatomical museum in part of the old University building very interesting
Palazzo Poggi Museum - Google Maps
Museo Civico Archeologico
Museo Civico Archeologico - Google Maps
Piazza Maggiore
The city's Main square with the statue of Neptune, you might recognize the trident he's holding up!
Piazza Maggiore - Google Maps
Piazza Maggiore
Big church on the square, which houses Cassini's Meridian Line and the usual religious stuff.
Piazza Maggiore - Goole Maps
This is the older part of the city, nice narrow streets with great food and little bars
On Google maps
Teatro Anatomico - Anatomy Theatre
Also houses the old University Library, interesting building.
Teatro Anatomico - Anatomy Theatre - Google Maps

Basilica di Santo Stefano
Odd Monastery / church with some interesting architecture and artifacts
Basilica di Santo Stefano - Google Maps
And now 2 Scrambler Food Factories!
We've been to the one in the town, but not the one on the ring road, what's it like, please let me know? memsec@docgb.net
This one's out by the ring road
Scrambler Ducati Food Factory - Via Stalingrado - Goolgle Maps
And this one's behind the Cathedral.
We had dinner there during Mugello week 2019, very nice food and great beer, well worth a visit, it you enter via the ground floor on one of the old towers, Torre de Galluzzi, there's a scrambler in parts on the wall, and one parked up inside.
It's been very nicely done...
Scrambler Ducati Food Factory - Torre de Galluzzi - Google maps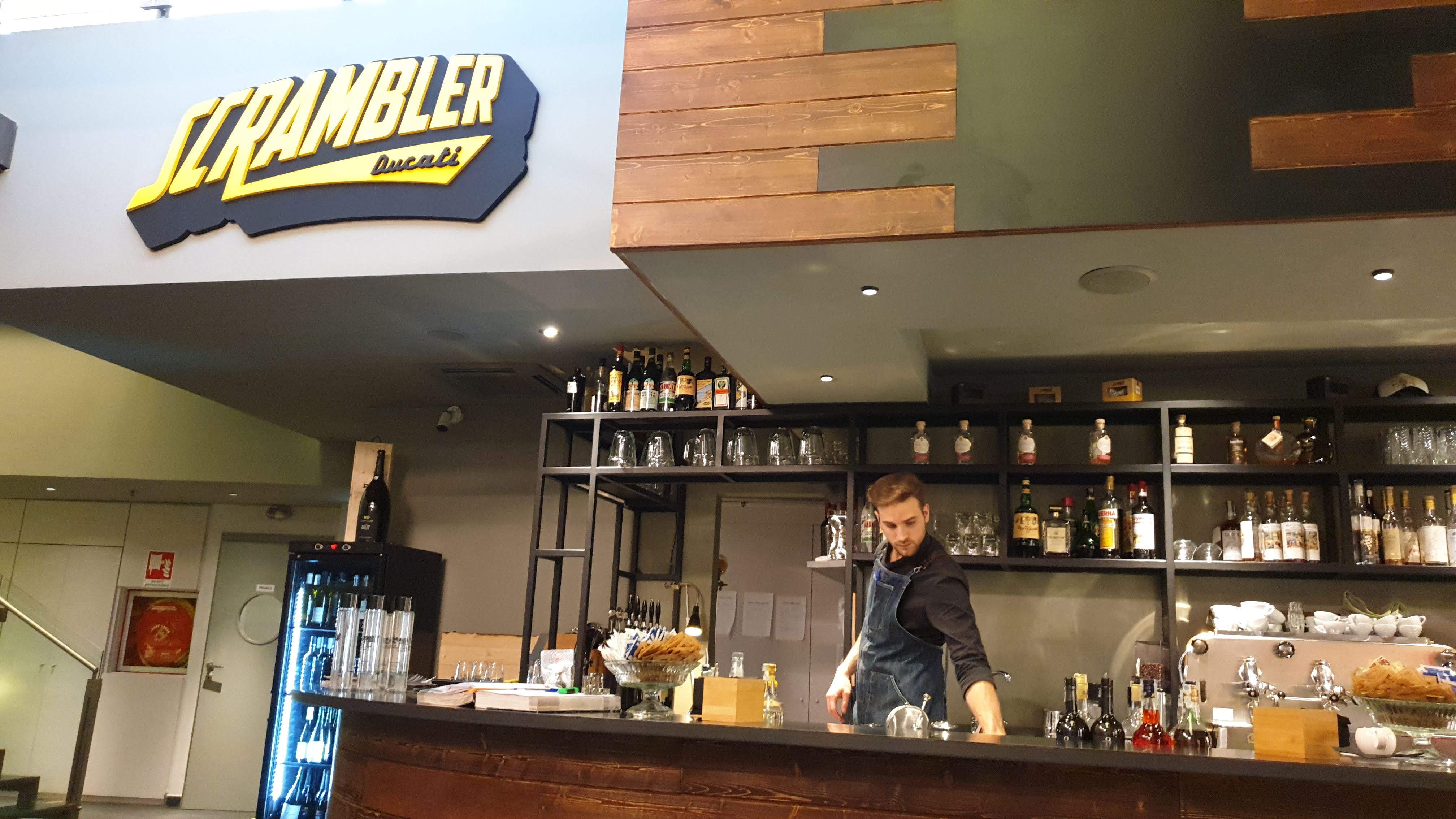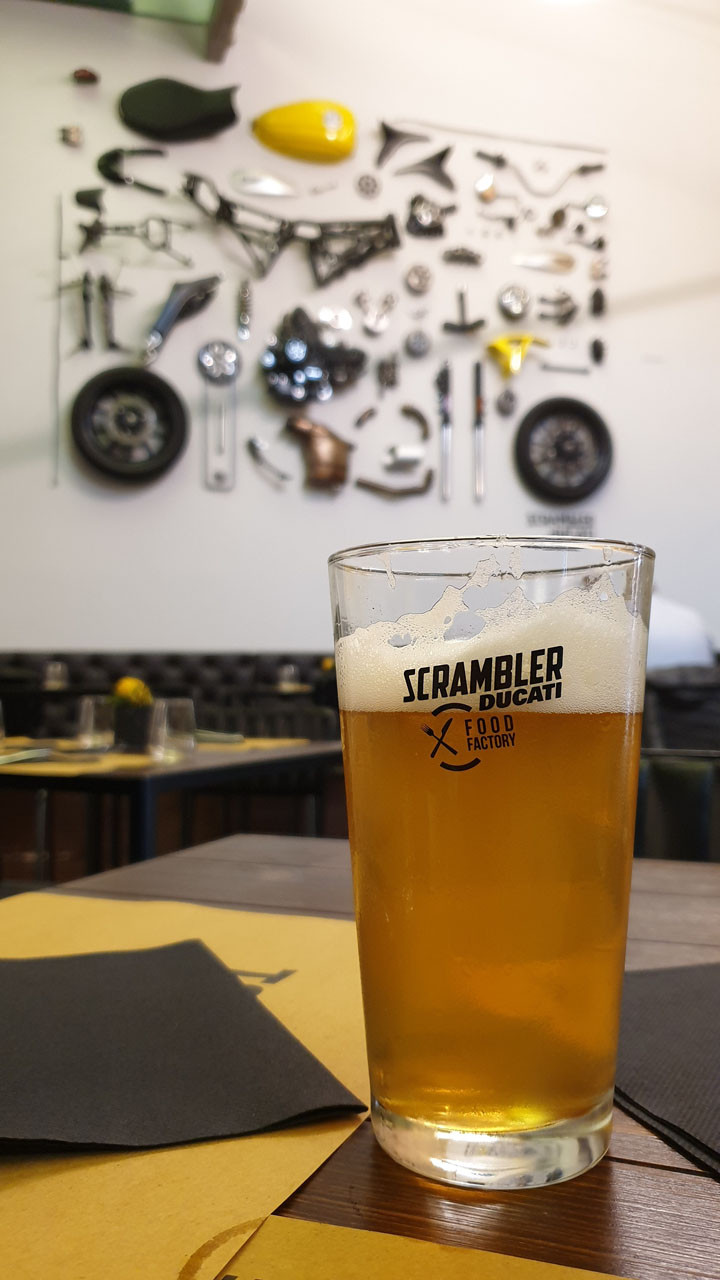 If you fancy a walk theres also.... 
Sanctuary of the Madonna di San Luca
Which is the big red chruch on top of the hill overlooking Bologna, it's a nice shaded walk up there apparently
Sanctuary of the Madonna di San Luca - Google maps