Ducati Desmo Owners Club - "Factory DOC" (as we refer to it)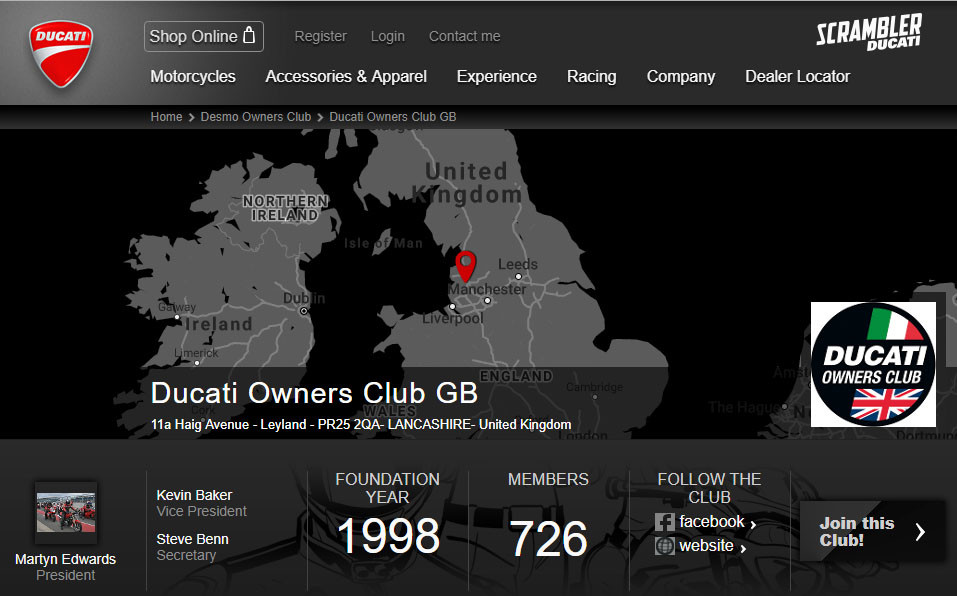 March 2019 Update………..Please note:
Ducati have taken this system offline until April I'm afraid, so it can't be accessed at the moment. I suggest putting in a reminder to do this in April?
This is an official factory run scheme which has been running for a few years now, and is a membership system in its own right, it is designed to be used by smaller provincial clubs as their membership system, of course we have our own system, so we don't use it as such, but being an officially affiliated club it's there for us to use to our members benefit, and it does have its benefits, which include: 
A DOC membership card - which allows the bearer the following: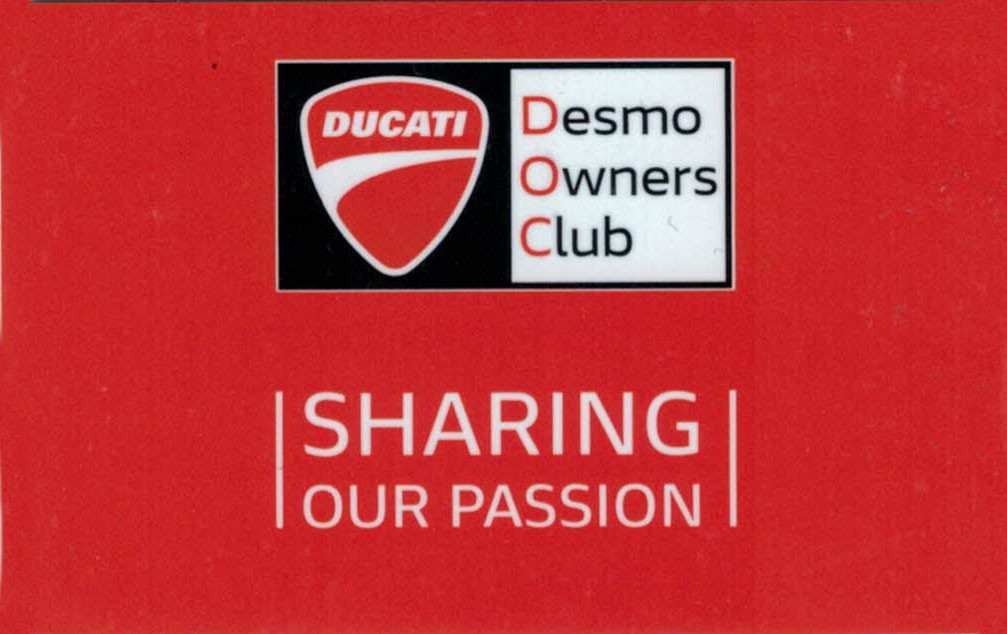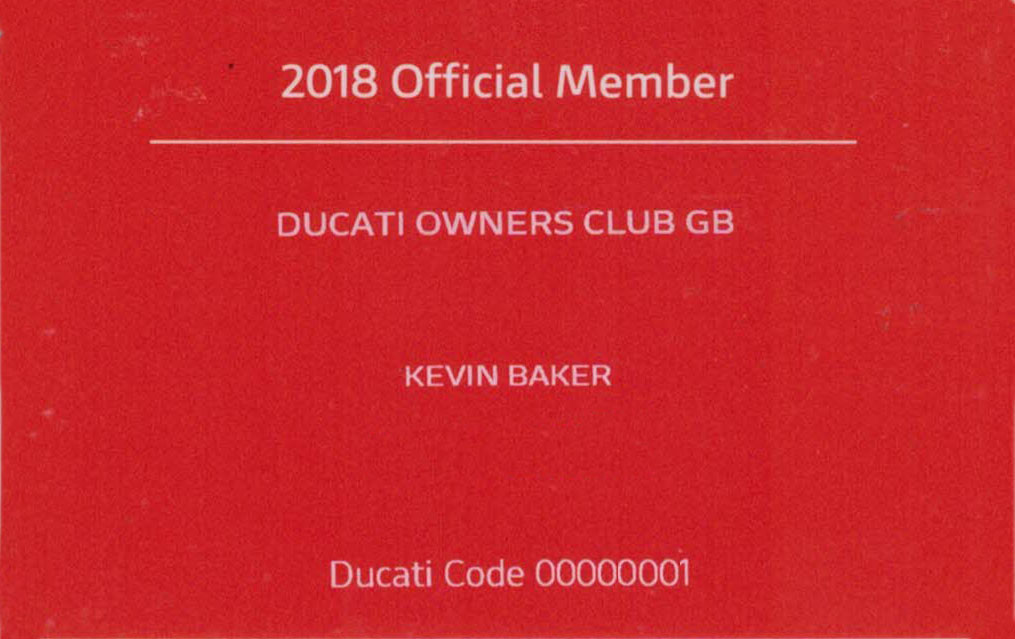 Free of charge access to the factory museum and tour, note: booking is required for the tour.
Discounts on items in the Bologna factory shops (approx. 15%)
A 'Welcome pack' which is provided once a year ('gadgets', patches, and badges etc?)
Reduced price (approx. 50%) World Ducati Week tickets
Reduced price Ducati Riding Experience
Reduced price entry to some trade shows etc
So as you can see it is worth doing, especially as it's all free of charge, BUT, this is only available to our fully paid up members, not available to forum or Facebook only members.
Another benefit for us as a club is the increased presence it give us in the eyes of the factory, as because we do not share our membership information with 3rd parties we have no way of proving the numbers of paying members we have. Therefore as more members register our actual level of membership will become apparent to the factory.
This system runs for 1 year, from January to December, which means that we have to re-affiliate and re-enrol all of our existing current members on the system, which we do for you in December/January, so if you are already on the system (and you are all paid up), you will be automatically re-enrolled, if you are unsure, please contact me to check your status.
Now, as this system requires the sharing of personal info with a 3rd party (ie Ducati Motor Holding S.p.A) and the setting up of password access, this is something that members must instigate for themselves (as we do not share our members info with 3rd parties).
So, if you want to take join in, this is where you need to start:
Go to www.ducati.com on the front page just under MY DUCATI click on SIGN UP
And follow the sign up procedure
Setting up you profile and access password will give you access to your info later on....
You must do this as this is the
Please keep your info up to date as this address is where your welcome pack will go to.

This is where to find our area on the DOC part of the site to join us http://www.ducati.com/club/become_member/index.do?clubId=DO C000316
Leave the county field as Lancashire as that's where Martyn our chairman lives (because the system is set up for the Italian clubs who are usually centred around a city, not like us who are nationwide).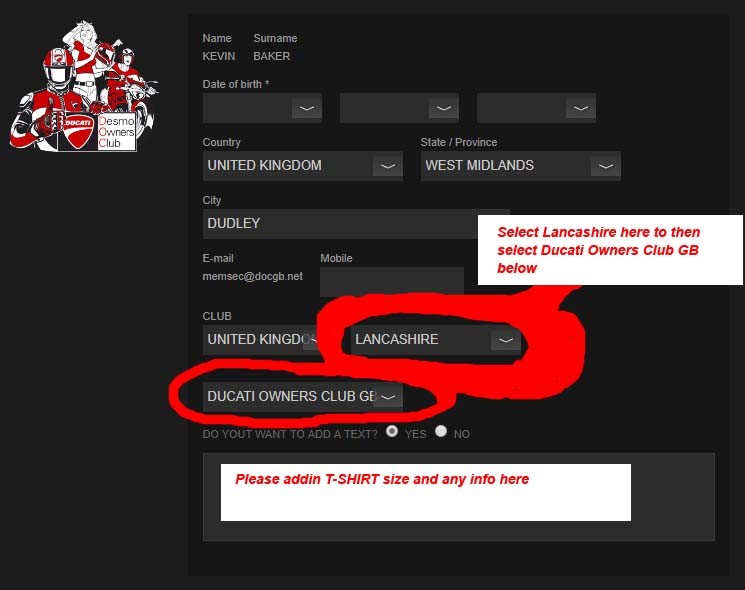 A final note on the welcome packs, these are sent to us from the factory with the expectation of us handing them out to our members by hand, and for clubs based solely around a dealer or a town, this works fine, but as we are a national club, our members are all over the country, this mean that we are left in the position of having to post them all out, which does amount to a significant cost, the CoM has decide again this year, that we would pay for this out of club funds, and rather than leaving the 750 plus packages to Martyn to sort out we now have a few dedicated members willing to take on the task of re-packaging and posting them out, so these should be coming out in May, but is frequently August, if you do register after mid April then you will receive a welcome pack later in the year when and if Ducati send out the remainder, as long as Ducati send out a second batch, this didn't happen in 2018.
Once you are registered and accepted there is no need to re-register each year, providing your DOC GB membership has not lapsed we will automatically renew all current members in January for the coming year.
If you are unsure or have any further questions about this, please e-mail me: memsec@docgb.net
And lastly, if you do register for the first time, can you let me know what t-shirt size you are so that I can enter it on the system. In 2018 the t-shirts were replaced with a bag, but this may change in the furure?