Southern Rally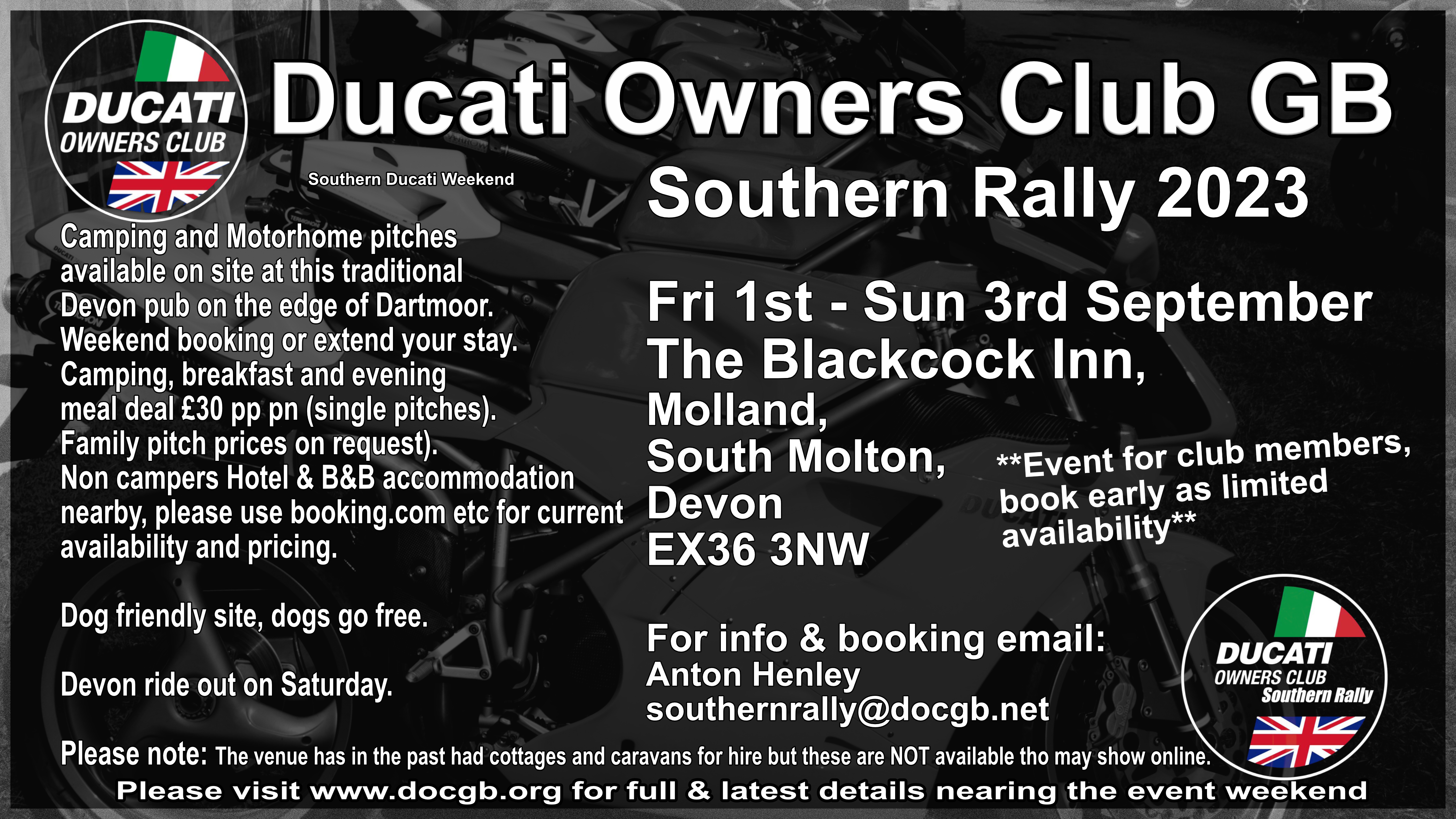 Date for the 2023 rally is the first weekend of September as usual so for this year it'll be Friday 1st - Sunday 3rd September with options to extend on booking either side of the weekend.
A new venue again this year on the edge of Exmoor. The Blackcock Inn, Molland, South Molten, EX36 3NW.
A beautiful traditional Devon pub featuring a campsite for those who'd like to be onsite for the rally and as always it has varied accommodation nearby which members can sought via online booking agencies for current availability when booking.
If you'd like to book please email Anton Henley southernrally@docgb.net
***
Previous years..

Southern Rally 2022 Friday 2nd - Sunday 4th September.
at
The Crown Inn, Bishops Cannings, Wiltshire, SN10 2JZ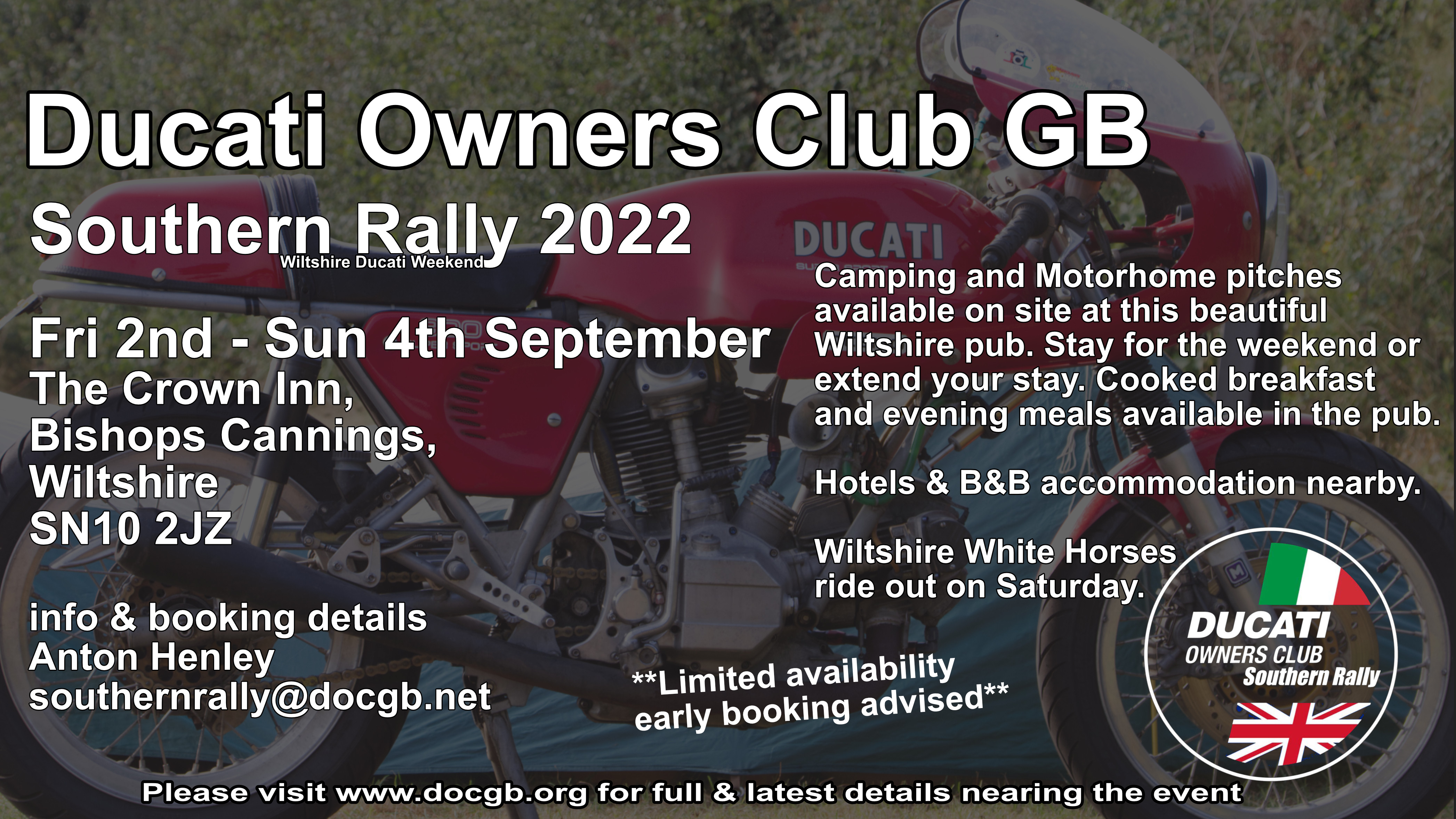 Arrangements for the 2022 Southern Rally are now confirmed and bookings can be made, message me for booking details southernrally@docgb.net
This is a fantastic venue for the weekend and a superb opportunity to make it a longer stay should you wish to extend and explore the area where you'll find Avebury, Silbury Hill, and Stonehenge just to mention a few stunning attractions within short distances from the pub. There are camping & motorhome pitches available on site and plenty of Hotel and B&B accommodation possibilities within a few miles.
A great location for the rally and I look forward to welcoming members.
Anton Henley
#forzaducati
***
The Southern Rally 2021 was a fantastic success at Whitehill Country Park https://whitehill-park.co.uk/ We look forward to returning there for the rally in the future. The sun shone and a fantastic weekend was had by all.
Whitehill's facilities are superb and we were able to access these throughout each day and the bar area became a hub of DOC GB socialising, making new friends and catching up with established friendships in glorious Devon sunshine.
2022 will again be a new (tho' tried) venue for the Southern Rally and will again have accommodation options to suit everyone, Glamping Pods, Shepherd's Hut, Camping, local quality B&B and Hotels within a short walk or ride/drive. I'm hoping to release details by mid December.
Thank you again to everyone who came, you all made it a fantastic weekend and the Owners at Whitehill want us back sometime in the future which again is a good measure of just how well the weekend went.
Colin Richards (Devon branch representative) had put together a fantastic ride out route for us to enjoy on Saturday, leaving Whitehill for a full days riding in the beautiful Devon countryside, which Colin kindly lead with Alan Mansell complementing him as our tail end Charlie. The local knowledge was a treat for us all, taking in some amazing roads, with incredible scenery and a really nice mixture of road types to suit us all, especially the route over Dartmoor.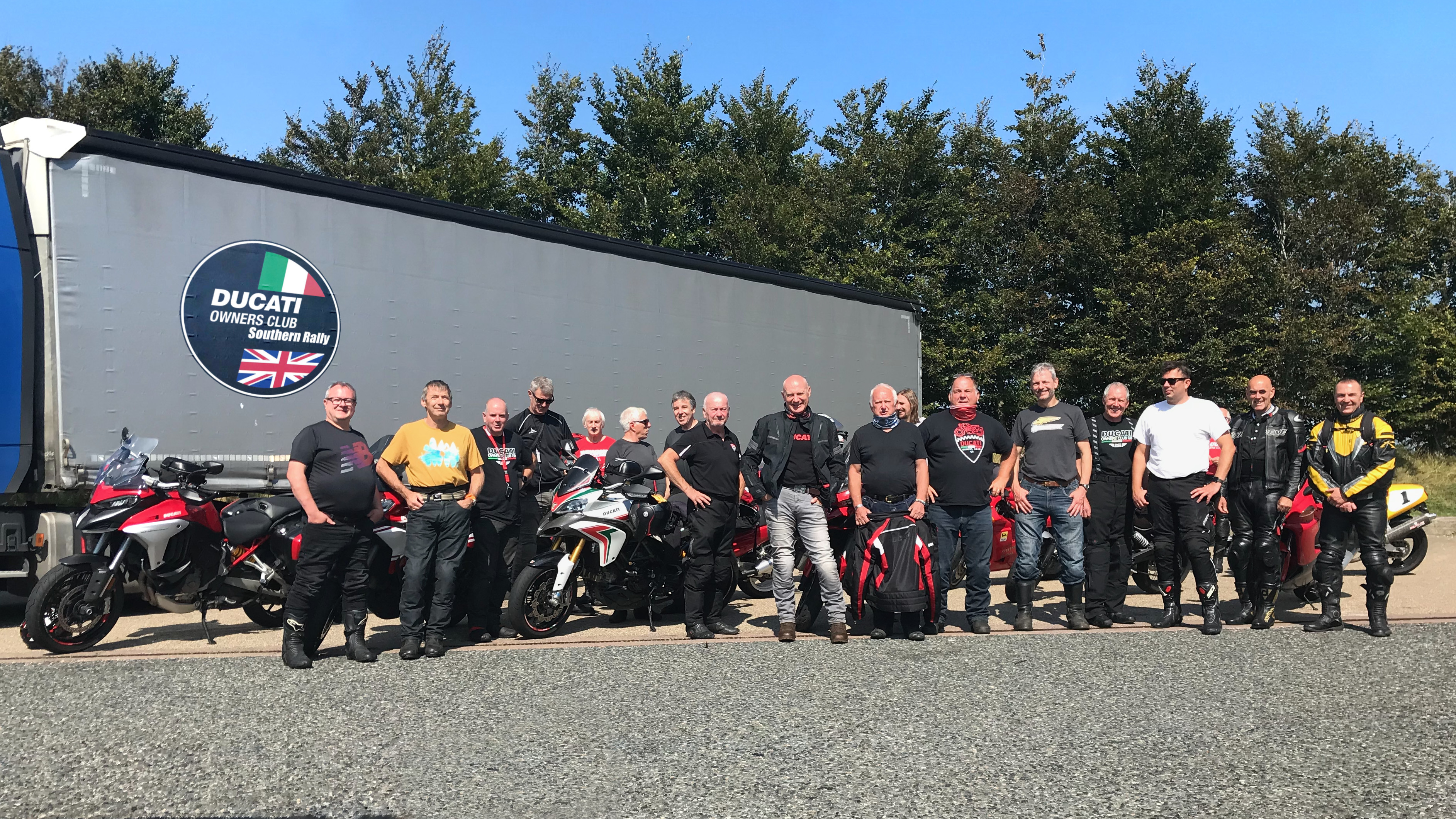 Saturday evening we congregated in the bar area again for a meal and some fun, where we all enjoyed tales of the days riding and everyone had plenty of those to share, the scenery, the mixture of roads, the amazing sunshine, we'd all stayed together and most of all we all enjoyed a safe legal pace and arrived back safely thanks to our lead and tail riders. We had a light hearted raffle with some club related prizes which raised £105.00 for Devon Air Ambulance.
Looking forward to doing it all again...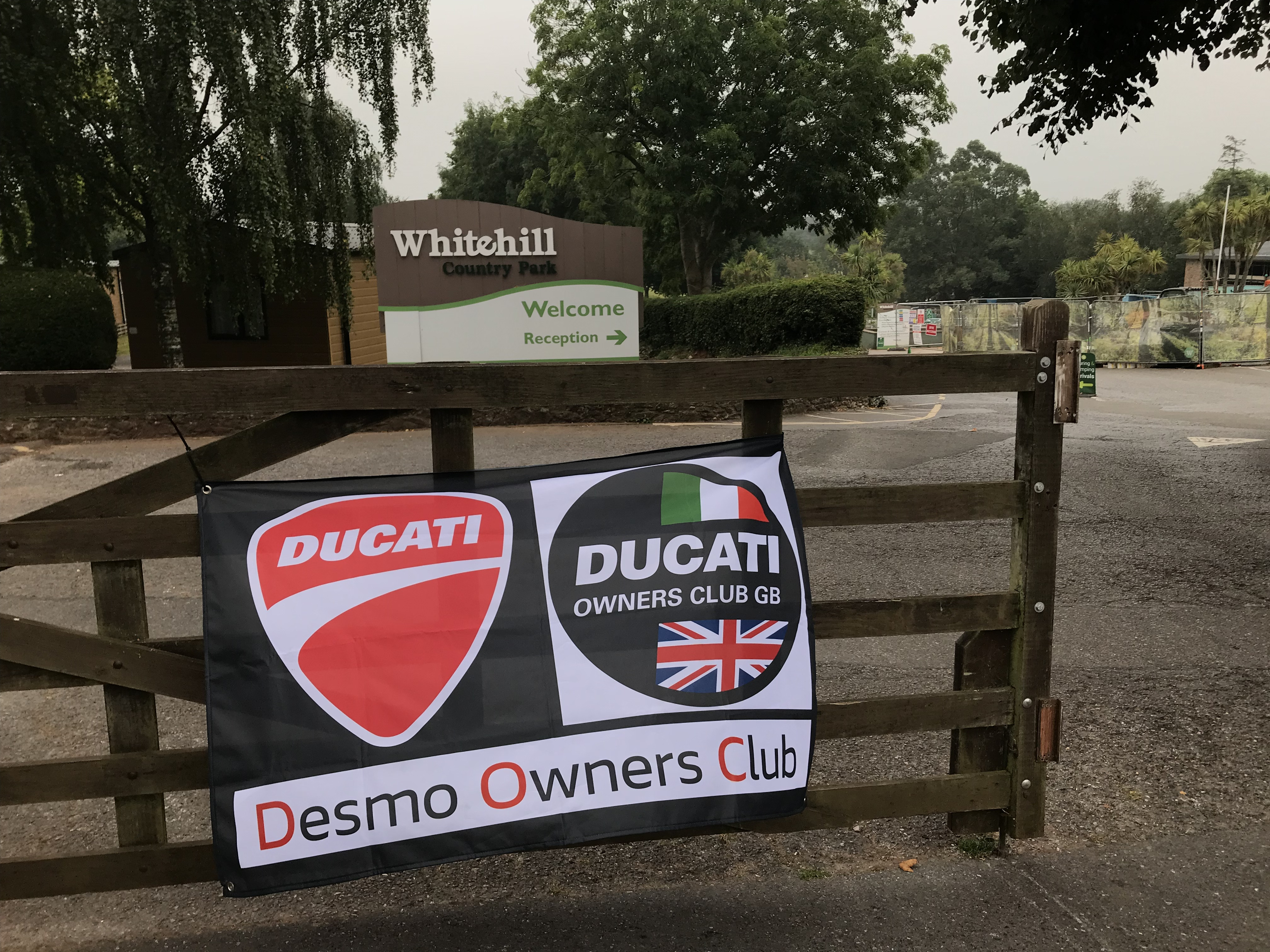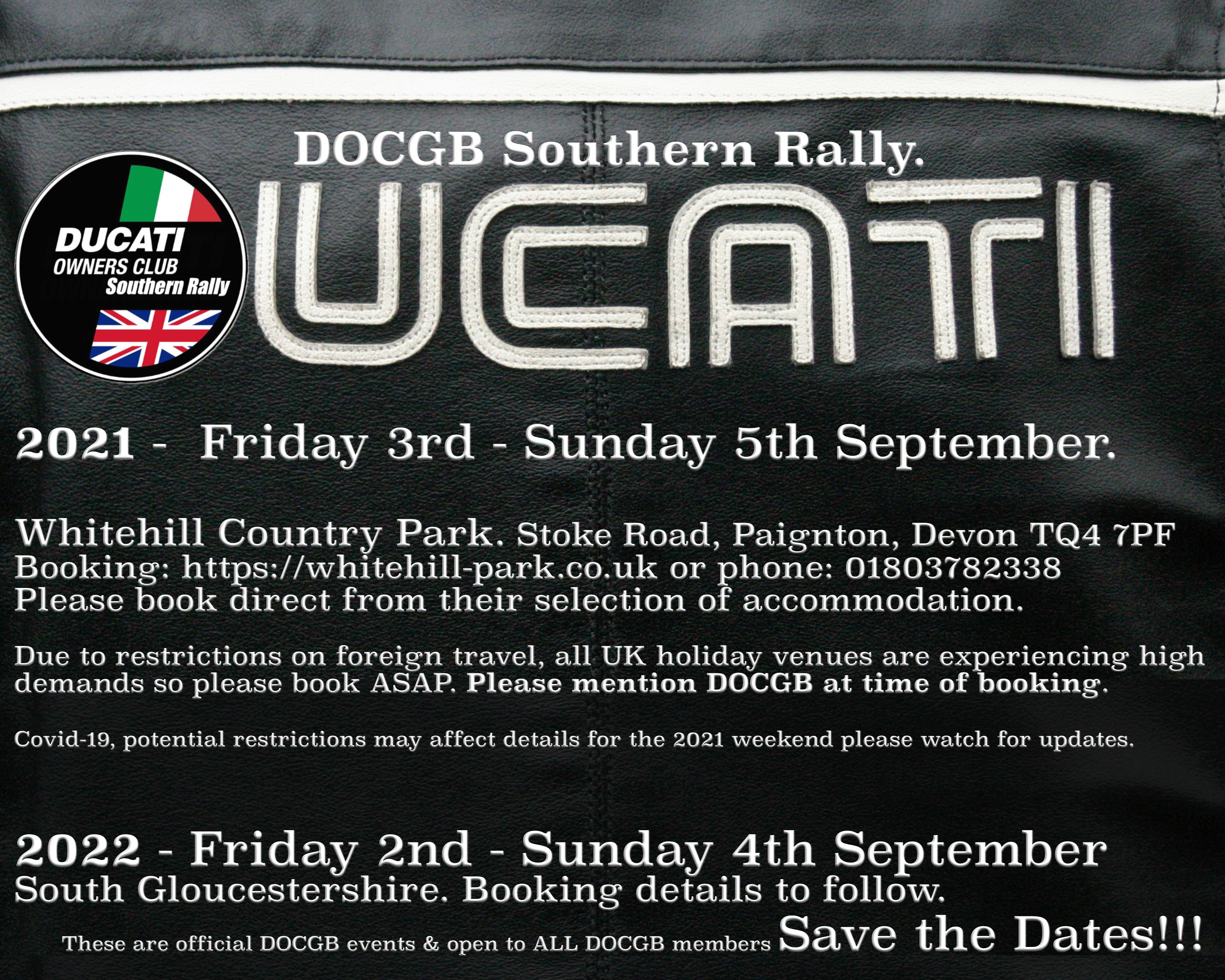 ***
The Southern Rally for 2022 is on Friday 2nd September - Sunday 4th September and will be in South Gloucestershire. There will be potential to extend bookings either side of the weekend for those wishing to make a longer holiday.
Please save the date for this event. Booking details will be announced shortly.
***
For 2019 we held our Southern Rally at Castle Combe race circuit in beautiful Wiltshire. This was a change from recent years locations on the south coast in Dorset and was held with the support of the DOC GB Bristol Branch.
The rally was over the weekend of Aug 31st - 1st September where the circuit were holding their biggest bike meeting of the year, the circuit offering our club members an online ticket discount in support of the club, which they are keen to continue for future years.
On arrival on the Friday, members were greeted at the clubs Marquee, where tea and coffee were on tap throughout the weekend, accompanied by a constant cluster of members to chat with.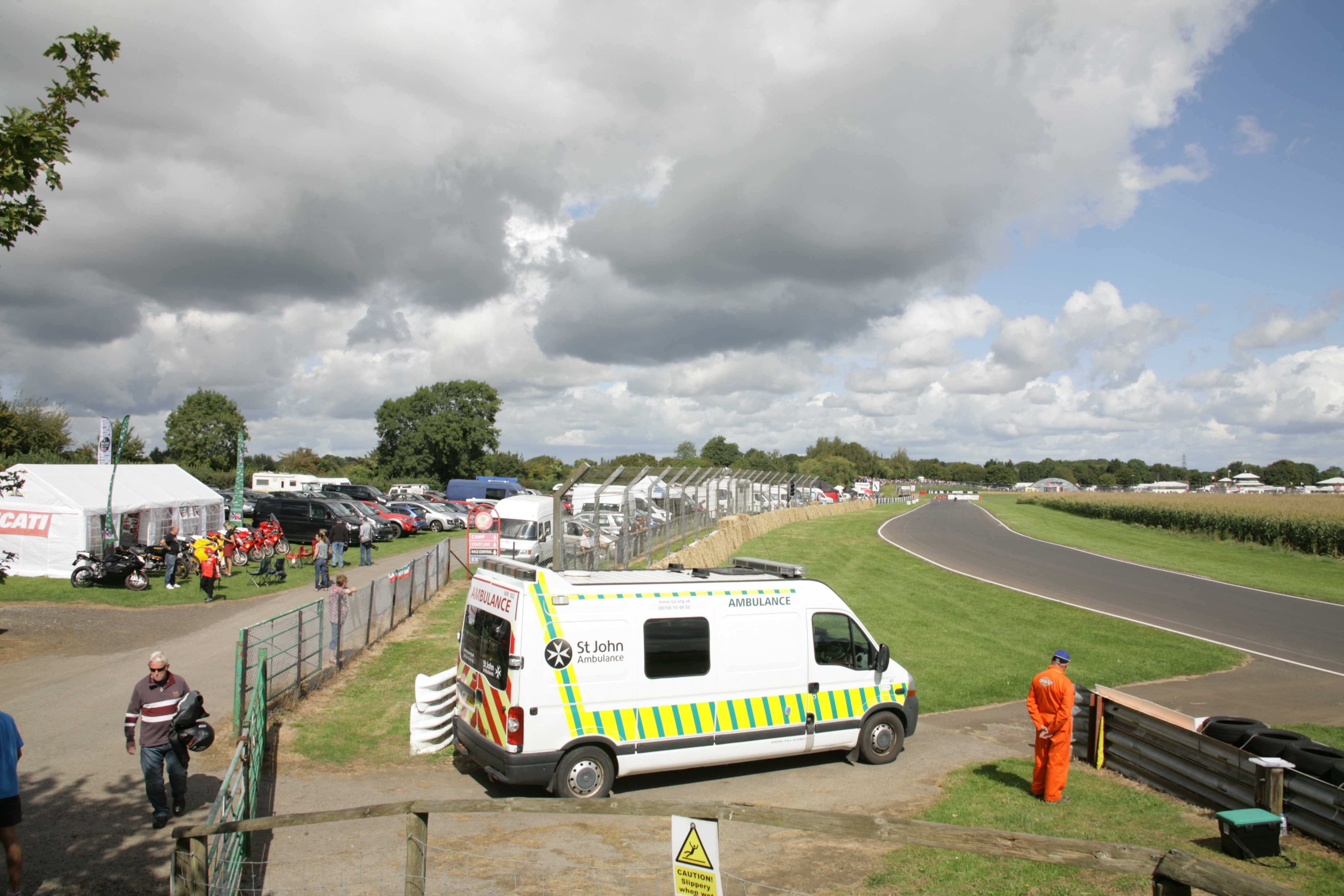 The Marquee was positioned well to enjoy socialising and also for viewing the racing close to hand whilst also being a stones throw from the camping area.
The turnout for the rally was tremendous, with many members either staying for the weekend or popping along for the day or commuting daily. Many chose to camp whilst others stayed in local hotels, with the Premier Inn 2 miles away proving popular amongst the non campers.  We'd booked sunshine for the weekend and in true DOC GB fashion it was there on tap with a short shower each afternoon to settle the dust, which was particularly welcome amongst the contact lense users amongst us.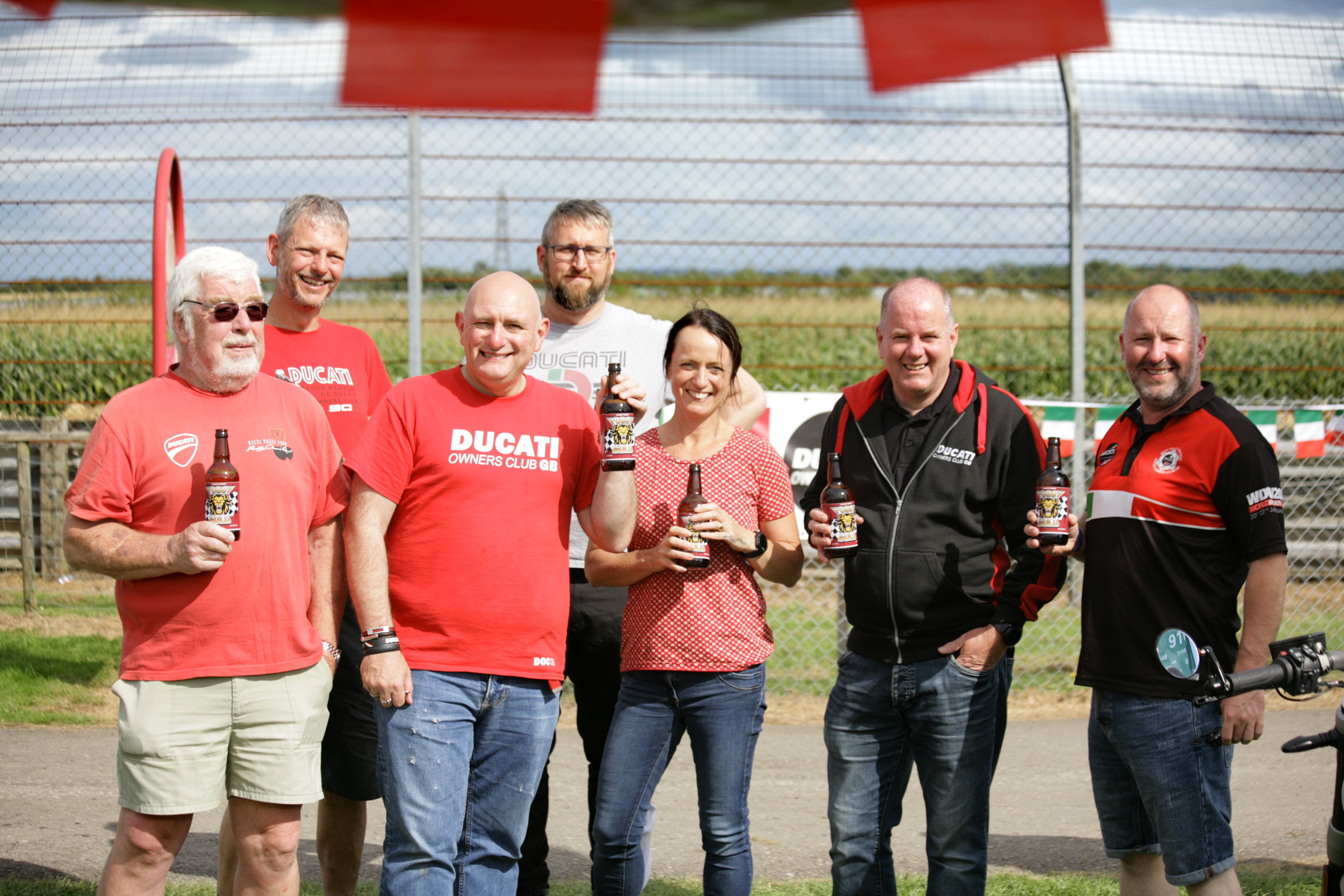 As a part of this years continued 25th year celebrations of the 916 we were somewhat spoilt by both club & non club members bringing along a good selection to show at the Marquee.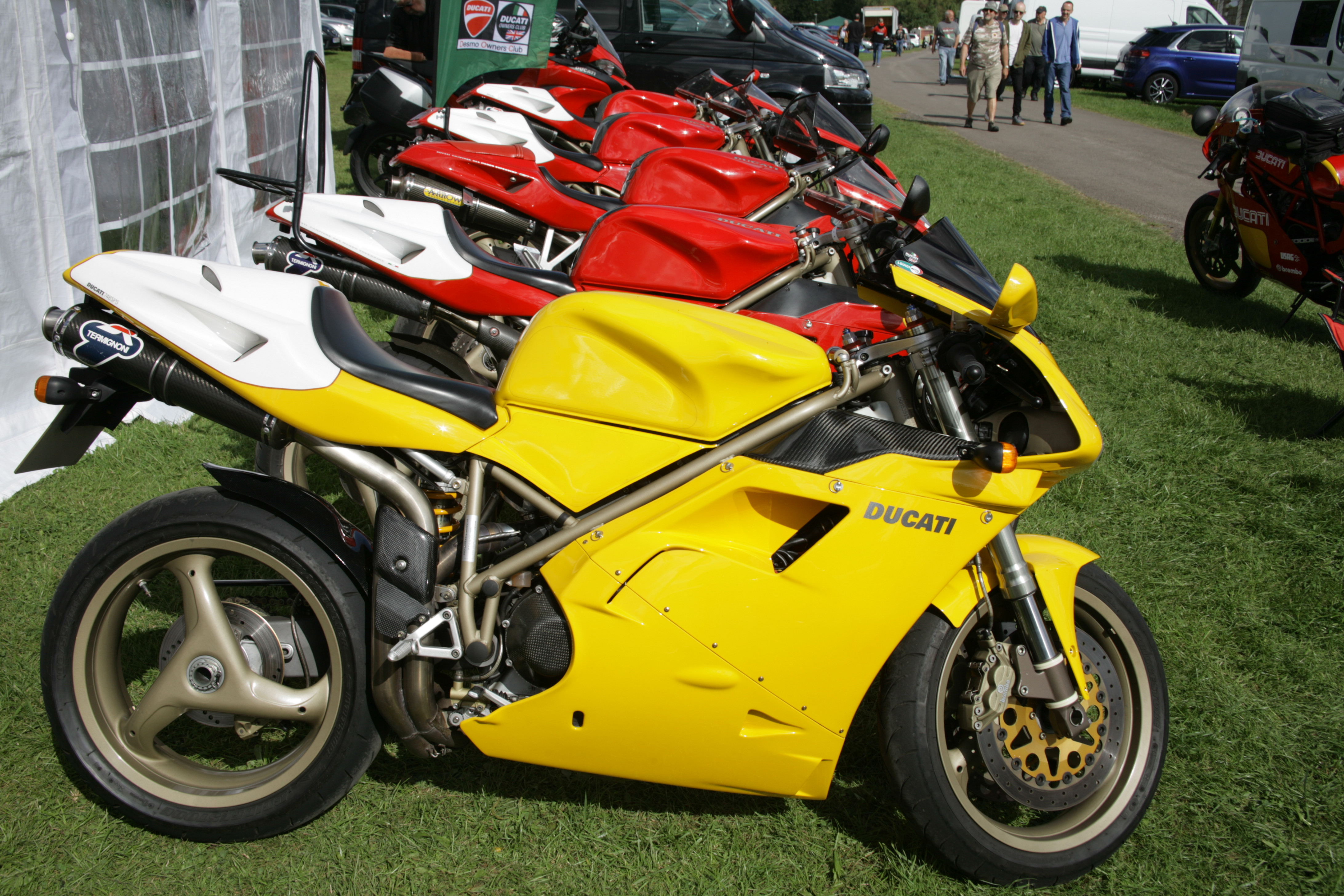 For those who'd not visited the area before, there was the added treat of venturing out of the circuit and walking down into the village of Castle Combe, something that most did at some point. The village boasts being one of the most photographed villages in the country, if you've been you'll already know why, if you haven't then you know where to be next September.
With all the DOC GB rallies, the one common denominator is it's members, their enthusiasm for all things Ducati and the rallies providing the club with a vehicle to engage with non members. We were blessed at the Southern Rally on this score, with many regular participants returning and many more coming along for the first time, resulting in new friendships being made and many new members from the interaction by being part of a public event. One non member arrived early Sunday morning and was still with us packing the Marquee up at the end of the day, he was hooked.
The DOC GB Bristol Branch members stepped up to make the weekend a fantastic success and we all had a superb ride out around the Southern Cotswolds on the Saturday evening to a local pub for an evening meal. Superb roads, food, beer and company.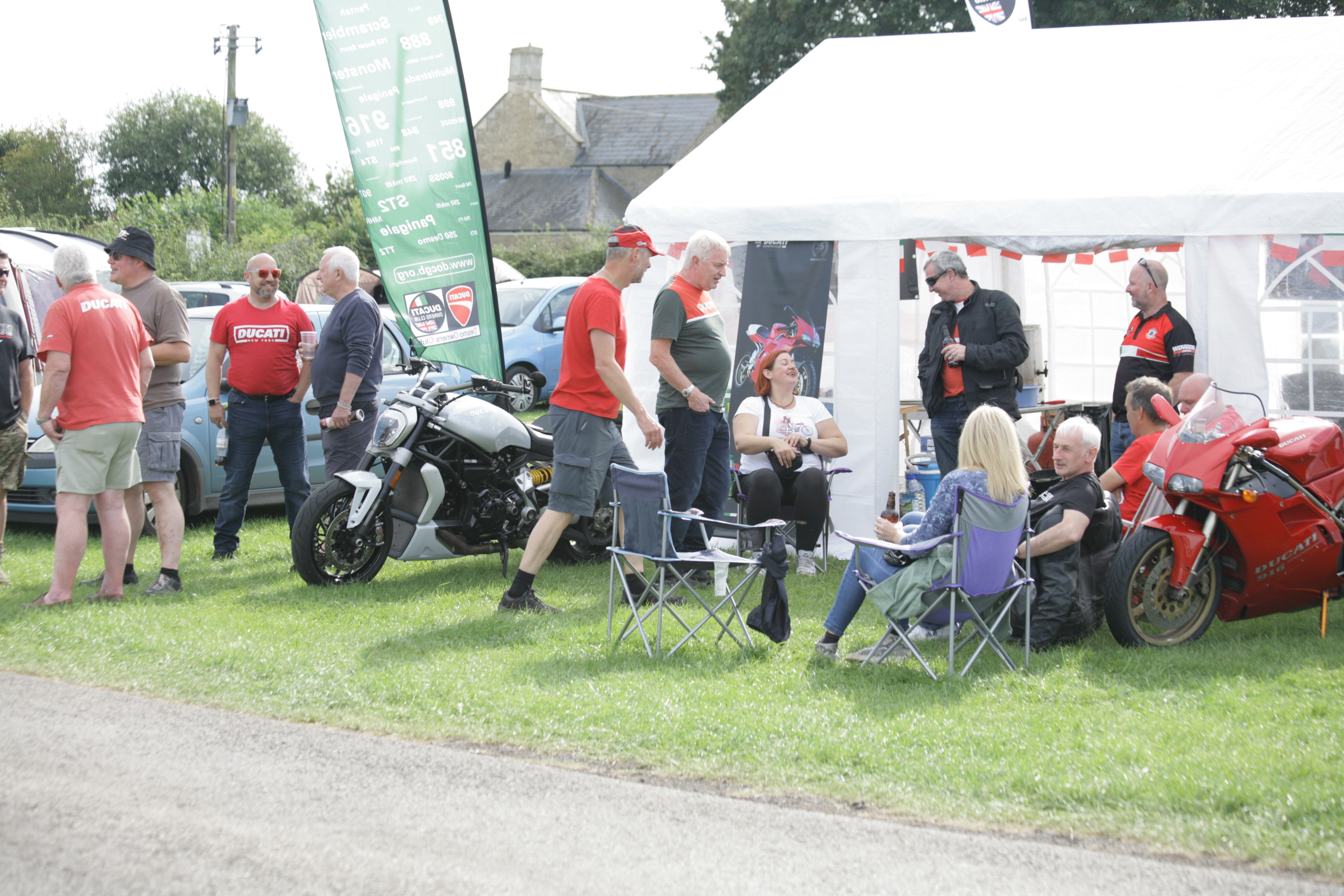 The weekend was preceeded by two track days at the circuit & for 2020 we are in discussions with the circuit to extend the weekend to encompass these into the rally (tho these would require booking with the circuit seperately to the race meeting).
The circuit have informed us of a provisional date of Saturday, Sunday 26th & 27th September for their bike race meeting in 2020. A date to save as we continue our plans for another great Southern Rally in 2020.
Anton Henley
Southern Rally Coordinator
07714186647